Pre-Scheduled Messages
Setup messages ahead of time to keep your guests on track, so you can focus on your special day.
On-The-Fly Broadcasts
Something urgent come up? Broadcast a message to your guests instantly from your phone or computer.
Organize Guests into Groups
Send different messages to different people. Think wedding party, family, VIPs, or breakout groups.
Collect Replies from Guests
Guests can reply with pictures, well wishes, or feedback. You can review them all later or in real-time.
Two-Way, Rich-Media Text Messaging
Your guests are taking pictures at your event, but not everyone will post their pictures on #socialmedia. Encourage your guests to reply via text - TextMyGuests organizes all your guests' replies into a single, private stream. You can review and share them later or in real-time.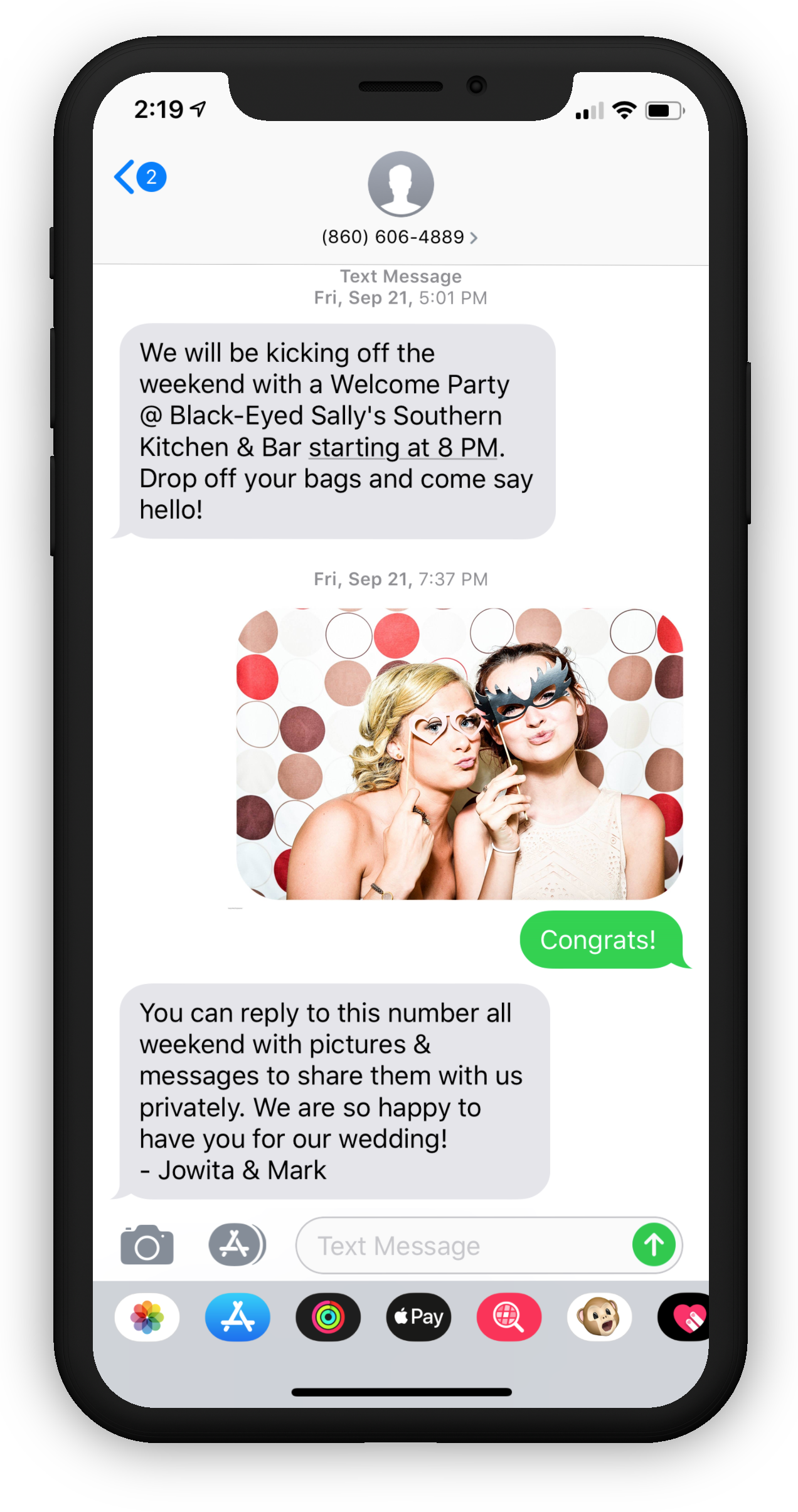 Stay in Touch
Text messages have a 99% open rate. Tell your guests what they need to know, when they need to know it.
Get Replies from Guests
We organize guests' replies into a single stream for you to view privately, or optionally share.
Flip Phones Welcome
Your guests don't need a smartphone - any phone that can receive SMS or MMS messages can participate.
Share Replies with Guests
If you like, share a link to your event's reply stream with your guests. Imagine a #hashtag, but over text.
Great for all kinds of events!
TextMyGuests can be used for almost any type of event. Weddings, conferences, tradeshows, festivals, and more!
Frequently Asked Questions
Group texts max out at about 20 people and cannot be pre-scheduled. TextMyGuests also shields your personal cell phone number from guests by assigning a unique, dedicated number for your event. TextMyGuests prevents the "reply all" nature of a group text. Messages you send are broadcast to everyone, but replies come only to you.
Yes! TextMyGuests allows you to invite other organizers to your event - each organizer has full access to create messages and groups, add and remove guests, and view replies. This makes it easy to work with your spouse, event planners, or co-organizers.
You pay only for the number of guests attending your event. Send unlimited messages, create unlimited groups, and receive unlimited replies - all for the same fixed, per-guest fee. There are no recurring fees or subscriptions, and no overages.
No problem! You can start uploading guests and configuring messages and groups for free. Even after paying, you can always add extra guests later if your guest count changes.
Yes! TextMyGuests supports CSV uploads of guests. There is no need to hand key all of your guests information. We recommend you collect cell phone numbers from your guests as you gather RSVPs. You can then upload them right from your RSVP system into TextMyGuests.
Ready to get started?
Create an account for free - you pay only after you've finished setting everything up and are ready to start sending messages.